THE SUN
THE SUN were Iain Whitmore and
Tony Poole from Starry Eyed And Laughing,
together with songwriter and drummer
Nick Trevisick, who'd been in Iain's
post-Starry Eyed band Kites, and had since played with The Kinks, The Tom Robinson Band and Moon.

Although just the briefest of bright flickers
in the 1980's musical landscape
- they played some 50 gigs, and released just one single and one EP in 1982-83 -
Tony Poole's ever-chiming Rickenbacker
12-string, Iain Whitmore's inventive bass playing, and the shimmering harmonies that were the hallmarks of Starry Eyed And Laughing, allied with Nick Trevisick's intense drumming and stunning production instincts created a sound that continues to shine in the 21st century.

The Single and EP have now been re-mastered - together with several unreleased recordings - and collated into what would have very likely been their debut album.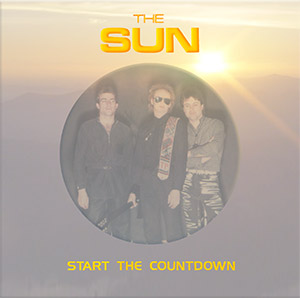 New CD now available - Click here for details
Check out the story,
hear the music,
read the lyrics
and see the photos
by clicking the links on the right