History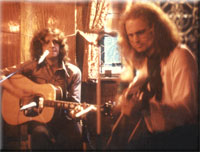 Tony Poole and Ross McGeeney first played under the name
Starry Eyed And Laughing
on Whit Monday 28th May 1973 at The Duke Of Clarence in Shepherds Bush, London.
A few days later, the duo began a summer-long residency, and soon Saturday nights at the pub on the roundabout were hot and happy, crowded and loud with the sound of their West Coast harmonies, folk-rock guitars,
Byrds
,
Dylan
,
Beatles
and original songs.
Pop weekly Record Mirror noticed "...something exciting happening at the Bush", as elsewhere in London that summer,
Eggs Over Easy
,
Bees Make Honey
and
Kilburn & The High Roads
were creating similar scenes with different styles that would eventually merge and morph into what became known as "pub-rock".
For Poole and McGeeney, who continued to busk down in the Underground tunnels - in a constant cute cat-and-mouse with London Transport officials - and to play folk clubs across the city acoustically, it was a chance to plug in and, in McGeeney's words, become
"...exactly one half of a rock band..."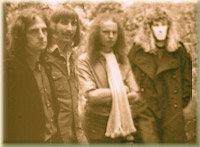 By August, they'd gained the attention of a new production company called Panda, and were recording tracks in a Hampstead studio owned by Steve Hall, a multi-talented musician\songwriter\producer, who soon joined on Bass.
In September they found drummer Nick Brown, and now exactly one whole rock band, the quartet began rehearsing, eating and sleeping 24/7 in a Nissen Hut in Bromley, South London.