History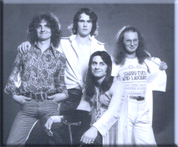 Starry Eyed And Laughing
's second album - '
Thought Talk
' - had been remixed for their first official release in the USA, and although the title track was played extensively on New York's WNEW Radio Station, the single originally scheduled to promote the LP
- '
One Foot In The Boat
' - never appeared.
US Tour Diary notes:
· The Midnight Flyer - a converted Trailways Bus with a million miles on the clock serving as their mobile hotel and HQ - broke down one last time in New York State.
· They spent a week rehearsing a stage show - with Columbia's 'guidance' - at a house belonging to
Albert Grossman
in Bearsville near Woodstock.
· During another week spent in Boston between gigs - where 3 of the band, minus McGeeney, recorded a first version of '
Can't Help But Love Her
' at a local studio - all their backline was stolen from a van.
· One of their 4 concerts at the legendary '
My Father's Place
' in Long Island was broadcast live and recorded for the
WLIR
Living Room series.
· Club dates, including 2 nights at Washington DC's
Cellar Door
, 6 nights at
The Smiling Dog Saloon
in Cleveland, and 3 nights at
The Shaboo
in Willimantic CT - helped bring the total number of gigs on the tour up to 37 during their 73 day visit.
· Tour accounts showed takings of $13,000, and expenses of $41,000 - the $28,000 excess generously paid by Columbia and offset against future royalties.
· After the last show at The Shaboo on Nov. 22nd, Tony Poole, Gerry Fradley and Pete Frame stayed on in Connecticut to catch
Bob Dylan's Rolling Thunder Revue
in Hartford on the 24th - courtesy of Columbia's David Demers. Michael Wackford and Iain Whitmore flew directly back to England, while Ross McGeeney headed west to California, for
Gene Parsons
to fit a
Parsons-White Stringbender
to his Telecaster.