History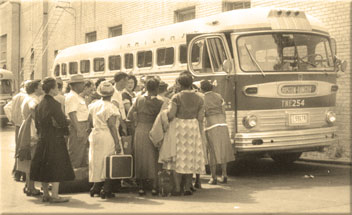 'New Faces of '75' was an unusual Package Tour whereby several new Columbia artists would play the same college venue consecutively on
different
dates over that fall.
As
Starry Eyed And Laughing
played their first gigs in New York State, it soon emerged that most campus promoters had not taken to this ambitious concept, and less than one fifth of the proposed 110 dates had materialised.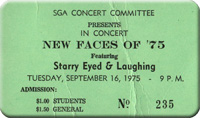 To the rescue: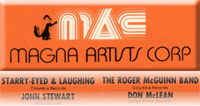 Excited US fans await Starry Eyed And Laughing's first
New York appearance as they arrive on the 'Midnight Flyer'
Booking Agency Magna Artists Corp were engaged to fill the holes in the schedule, and even at such short notice, booked slots with major acts of the time Weather Report, Dave Mason, Toots & The Maytals, The J.Geils Band and Manfred Mann's Earthband.

Meanwhile, the band enjoyed 3 triumphant, rip-roaring, packed nights at The Bottom Line in Greenwich Village with Flo & Eddie (The Turtles, Frank Zappa).
Not to be outdone by the legendary headliners, who'd had Lou Reed and Patti Smith up on stage, they invited the Flying Burrito Brothers to join them for impromptu versions of 'Six Days On The Road' and 'Truck Drivin' Man'.