History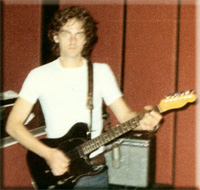 Starry Eyed And Laughing
returned from their US Tour one by one into a storm-filled English December. Last to arrive was Ross McGeeney, from California with his freshly customised Stringbender Telecaster, and in a post-mortem meeting at The Bricklayers' Arms near Marble Arch, he
was fired
resigned.
Roger Kelly
- who'd played previously with Iain Whitmore and Mike Wackford in a teenage trio called
August
- was hired to replace him for a 14 date UK Tour in January and February '76, but the separation ended when Ross re-joined for an appearance on the German TV show
Rockpalast
and a few remaining gig commitments, which they played as a 5-piece.
With their management going bust, and no support from CBS, they played their last London gig at The Red Cow in Hammersmith on March 3rd - about one mile from where they'd first played as
Starry Eyed And Laughing
in Shepherds Bush just under 3 years and a million miles before.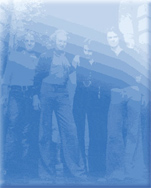 Iain Whitmore left to form Kites, and Roger Kelly went on to success with Paul Young in Streetband.

Arranged with the help and continuing support of Dan Loggins,
Flo & Eddie flew to London in the summer to produce 3 tracks with McGeeney, Poole and Wackford, two of which - 'Song On The Radio' and 'Saturday' - were released as singles under a shortened name later that year, but by then the band that had become known as
Starry Eyed And Laughing had ceased to exist.