History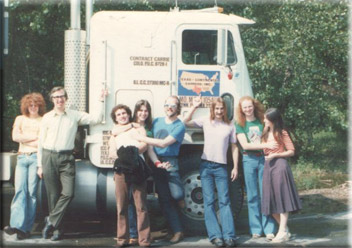 Starry Eyed And Laughing
's US Tour began dramatically in Atlanta, Georgia when singer and 12-string guitarist
Tony Poole stepped up to the mic for
the first chorus of the opening song
- 'Going Down' - and promptly fell backwards onto the stage ... electrocuted.
The band - thinking it was some new
TP theatrical strategy - played on till the end of the song as their frontman lay inert and horizontal, still holding his Rickenbacker ...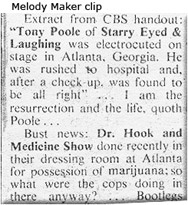 L-R: Ross McGeeney, Norman Lawrence, Nick Murray, Iain Whitmore, Pete Frame, Gerry Fradley, Tony Poole, Dilly Thrower
After a night in hospital (his amplifier had been incorrectly wired, but the fact that the USA uses 110 volts meant the shock, while knocking him out, wasn't - allegedly - fatal),
he and the band completed their 3 night residency - booked as warm-up gigs (literally for TP) - the last being a Saturday show with the unfortunate
Dr. Hook
.
(see clip at left)
Boarding their 1951 Trailways People Carrier 'Midnight Flyer' with Native American Peter Lappas at the wheel, they headed for New York State to begin proper what they thought was their 110 date Columbia-organised 'New Faces of '75' tour ...