Peter O'Brien
- editor and publisher of the legendary rock magazine '
Omaha Rainbow
' - has released his first album.
Recorded and produced by
Tony Poole
, who also plays and sings harmony on the album,
Junked Cars & Beat Up Guitars
is a trip through space and time across America's geographical and musical heartland, from 1955 to California, from Texas to Twenty-O-Nine.
Peter's overwhelming passion for American music and Americana first found expression in
Omaha Rainbow
, through which he wrote about, met and championed so many of that culture's great artists while they were either still cult figures (
John Stewart
), largely unknown (
Townes Van Zandt
) or already legends (
Phil Everly
).
It's significant that many of these became friends, as while Peter acknowledges their inspiration for the songs he's written on
Junked Cars & Beat Up Guitars
(read his full notes here)
, this is no 'wannabe' record, but rather a unique take on the place and the music through the eyes and the ears and the voice of an Englishman from Oxford.
- Tony Poole June 2009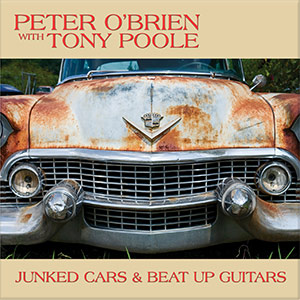 CD available here - Click for details
Visit the links on the right for credits, lyrics
and to hear some tracks
Dedicated to the memory
of Roxy Gordon and John Stewart
'Are you running with the renegades,
looking for the wind ?'