Singles : Money Is No Friend Of Mine

5 singles were released on CBS in the UK - the last 2 under the name "Starry Eyed"
"Money Is No Friend Of Mine" was chosen over "Going Down" from the initial
3-song CBS session in March 1974, with "See Your Face" as B-side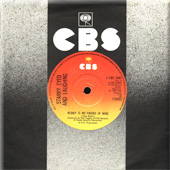 Money Is No Friend Of Mine
CBS 2686
b/w
See Your Face
October 1974
Different mix to album version
The 1st A-side was a different mix and edit of the album track,
and began with an a capella chorus
A different lead vocal line in the 2nd verse substituted the word "love" for the original "laid"
Ray Jackson of Lindisfarne added a Mandolin
The B-side - also a different mix to the album track - featured
NME journalist and musician Roy Carr on bongos

John Peel's Review
---
STARRY EYED & LAUGHING: "MONEY IS NO FRIEND OF MINE" (CBS)


NOR MINE.
However we are told to love our enemies and I do what I can, softly and without ostentation.
S. E. & L. broadcast recently on my own truly wonderful radio programme and I was moved then to comment on their excellence.
Starry Eyed and Laughing perform, it cannot be denied, in a manner best described as trad. Byrds. They do it quite extraordinarily well, injecting just enough of themselves to avoid being written off as mere copyists and in the process writing some dashed fine little numbers. This is one of their best. The playing is superb throughout, and allied to Dan Loggins' neat production, overall this is a record well worth owning.
An optimistic feel to it all, complete with an uplifting key-change. "Huzzah" they cried, falling to the ground in drunken abandon.