Singles : Nobody Home · Good Love

The second of 2 singles taken from the debut album - "Nobody Home" - continued CBS' strategy
of promoting them as a "pop" group ... their tactics changing dramatically when this didn't work, with the lead-off release from the 2nd album of the more rock-oriented "Good Love"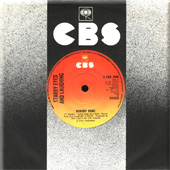 Nobody Home
CBS 3036
b/w
Closer To You Now ?
February 1975
Album version
The 2nd A-side was a more punchy version of the track from the first LP, re-mixed by Dan Loggins and Tony Poole at Redan Studios, West London with Bill Aitken engineering.
Peter Wood's Harpsichord part was also more prominently featured.
Peter - a former member of English rock band Quiver, who later co-wrote "Year Of The Cat" with Al Stewart - sadly died in 1993.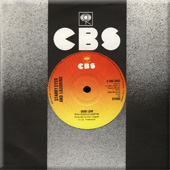 Good Love
CBS 3455
b/w
Down The Street
August 1975
Different mix to album version
The single was a shortened version and a different mix of the first song credited to all 4 members of the group - who'd developed TP's initial riff and title (mostly during soundchecks on their busy gig schedule) - with Iain Whitmore writing most of the lyrics.
Colin Walker of the Electric Light Orchestra added a cello section
and Jeff Bannister - a former member of The Alan Bown Set - played organ.