That Was Now
And This Is Then - Double CD

| | | | |
| --- | --- | --- | --- |
| Catalogue No. | | Release Date | Format |
| Worldwide: | Aurora AUR02 | November 2003 | Double CD |
Contains the original albums and Starry Eyed singles, plus bonus unreleased tracks
CD 1 1974 LP Starry Eyed & Laughing
1. Going Down
R.McGeeney
2. Closer To You Now
R.McGeeney
3. Money Is No Friend Of Mine
T.Poole
Original un-edited version

4. Lady Came From The South
T.Poole
Longer fade with guitar solo

5. Oh What ?
T.Poole
6. See Your Face
McGeeney-Poole-Whitmore
Single B-side version

7. Nobody Home
T.Poole
LP version

8. 50/50 (Better Stop Now)
I.Whitmore
9. Living In London
McGeeney-Poole
10. Never Say Too Late
I.Whitmore
11. In The Madness
R.McGeeney
12. Everybody
R.McGeeney
Bonus Tracks - Previously Unreleased
13. Chimes Of Freedom
B.Dylan
Originally produced by Per Frĝem

14. Strangers All Over Again
T.Poole
15. Meet Me Lord (At The Bottom Of The Hill)
McGeeney-Poole

Tracks 14-15
Originally produced by Bob Parsons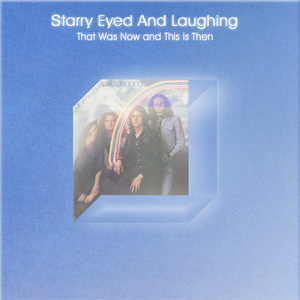 Produced and Mastered for CD by Tony Poole
Original Albums Produced by Dan Loggins
Design: Catherine Daines
Front Cover Concept: Michael Wackford
Click here to buy ...