Singles : Song On The Radio · Saturday

Produced by Flo & Eddie, who the band had met in New York, these 2 A-sides were recorded during a 3 song session in CBS Studios, London. The 3rd song - Can't Help But Love Her - remained unreleased, but is now available together with these on the Re-mastered Double CD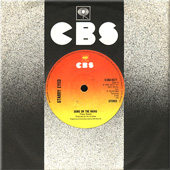 Song On The Radio
CBS 4577
b/w
Don't Give Me A Hard Time
September 1976
Album version
Tony Meehan - The Shadows' drummer - wrote the stunning orchestra arrangements for all the tracks. Tony tragically died in 2005.
The song was written on the US Tour in New York State, and included references to Canandaigua and Albany.
Flo & Eddie sang backup, including the line "...take a shower with your radio...", unfortunately unheard after the fade ...


Howard Kaylan (Eddie)
recollects:
"Starry Eyed had released two CBS albums that didn't get anywhere ... so they came to us and asked us to do 3 singles, which we did.
The first was '
Song On The Radio
' and it was gorgeous, but the classic piece was '
Saturday
'.
It was just amazing, you put it on today and go 'who the hell is this and why wasn't it a Number #1?'
It's operatic in its changes, it goes through three or four complete incarnations, it rocks hard and it's got these incredible voices.
These guys were great singers and we kept the Byrds influence all the way through. We just left the mikes open, told the engineer to keep the tapes rolling, then went in there and sang with them.
Unfortunately, the records were completely overlooked. But anybody who can find those songs, they're excellent pop records."
Read the full Goldmine article by Dave Thompson here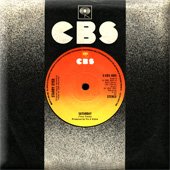 Saturday
CBS 4805
b/w
Believe
January 1977
Re-mixed version
Iain Whitmore had left to form Kites, and the band name was shortened to "Starry Eyed" for these singles (as Eddie put it "...Laughing left..."). Steve Lewis played bass, and genius musician Nick Bicāt - who'd wandered in to Acorn Studios, Oxfordshire during a demo session - played piano.
Mike Wackford also sang backup for the the first time on record.